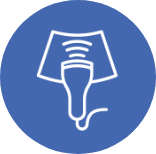 Doppler
Doppler is a specific ultrasound technology intended to study the flows in the blood vessels (arteries and veins): the speed of blood flow and its direction.
Main indications
Phlebitis research, screening or monitoring of arteries in the lower and upper limbs, screening for narrowing of the arteries of the neck (stenosis) or renal arteries, screening or monitoring of aortic aneurysms.
Preparation
To perform a Doppler of the renal or abdominal arteries, you will be asked to fast (do not eat, do not drink, do not smoke) for more than 6 hours.