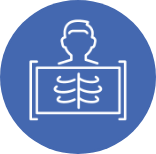 General radiography
Radiography is nowadays an examination that uses tiny doses of X-rays thanks to the use of digital equipment. The doses used are also recorded in the patient's file.
Principle of an examination
X-rays are able to penetrate the body and to visualize bones and organs. Radiography is therefore used, for example, to detect a fracture or the presence of a foreign body, to examine the lungs or to follow up the fitting of a joint prosthesis.
Digital equipment
Thanks to our up-to-date equipment the images are taken, as photographs are taken, and come out in the form of digitized images. They have many advantages :
 Significant reduction in doses received during an examination.
Transmission of images to remote locations.
Post-processing of images enabling more accurate diagnosis.
Sharing images with the prescribing physician or other specialists.
Archiving of images with a view to subsequent comparisons.
A more ecological approach: a reduction in film and paper materials used.
Preparation
You will be asked to remove all metallic objects (jewels, piercings, glasses, etc.) from the area of your body to be x-rayed.
Conduct of an examination
A member of the medical team accompanies you in the examination room. The duration of an exam depends on the number of images to be taken.
Between 10 to 30 minutes maximum.
Contraindication
Radiology is not recommended when pregnant.